You provide the land and pick your layout; we will take care of the rest.
You can use our modules as they are or we can create custom layouts for you. There are numerous ways to make a home that suits your needs and tastes.
Below are some of the exciting ways we are creating customer specific homes.
Central Puerto Rico
40' Ah! Customized + one Mini with a custom deck and pool
One KIOTA module + one NIU + custom pools and decking on an urban lot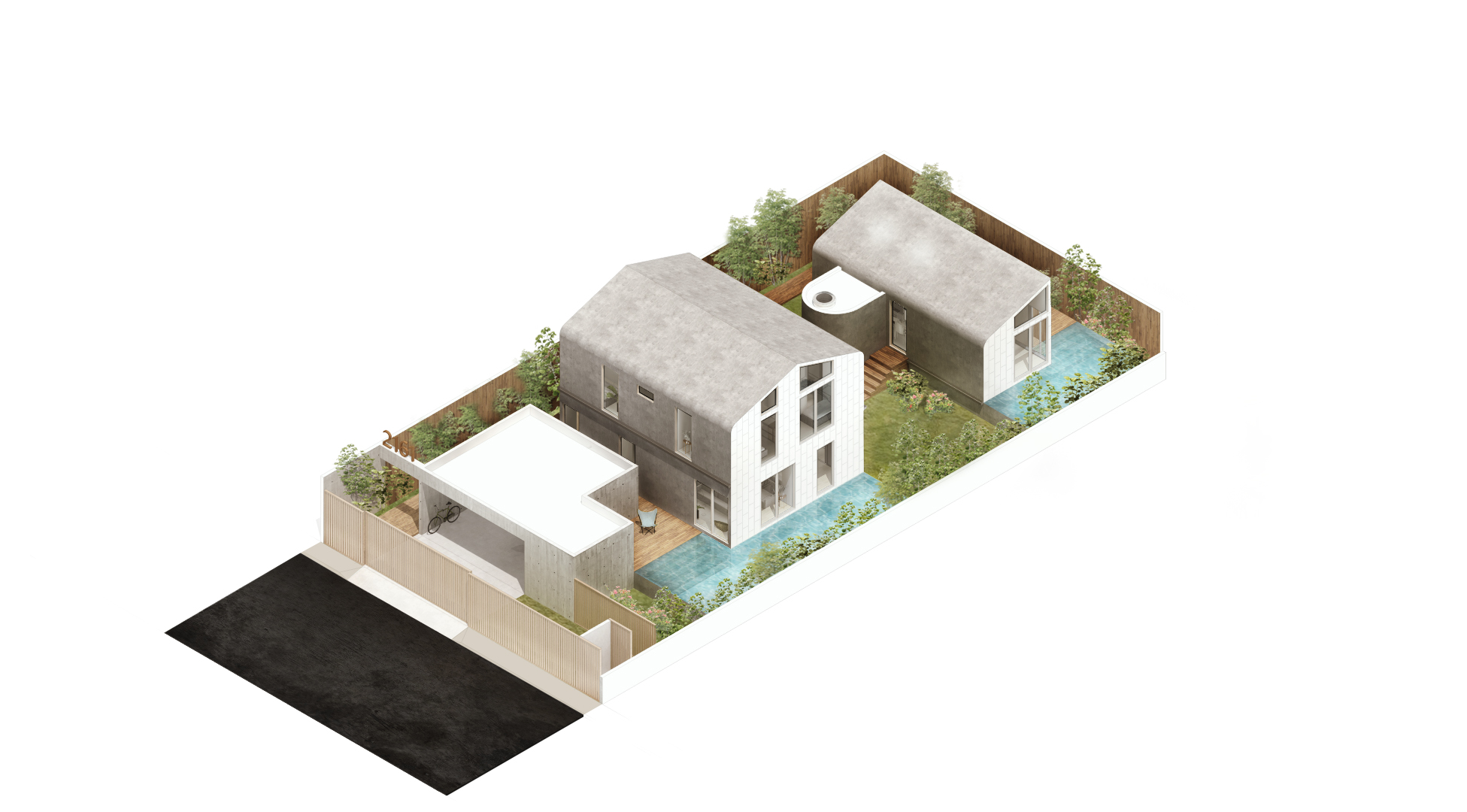 Naranjito, PR
One BO module + two NIU modules + two Connector modules + one Carport + custom deck and pool
Features Overview
CASA-I'S HOMES COME WITH A VARIETY OF SERIES SPECIFIC BUILT-IN FEATURES WITH LOTS OF ADD-ON OPTIONS. NIDU'S FLAGSHIP MODEL COMES WITH ALL OF THE FOLLOWING FEATURES IN A TURN-KEY PRODUCT.
ELECTRICAL OFF-GRID CAPABLE
NIDU uses state-of-the-art photovoltaics and, when appropriate, wind turbine systems to satisfy the energy needs of its users. The modules can be 'grid-tied' or 'off-grid' and are delivered with the essential equipment to make it happen. No more blackouts!
water supply is self-sufficient
Complementary to energy independence is water independence. NIDU homes are equipped with generous cisterns for water collected from the environment (rainwater and humidity from the air) provide a generous potable water supply. To aid in water conservation, every NIDU main module comes with a grey-water system.
Resiliant
NIDU is designed to thrive in adverse circumstances through energy generation, water production, resilient materials and in its very structure. NIDU's concrete shell is a hardy material that can withstand storms, fire and rain with integrity and your NIDU has been designed to rigorous structural standards that surpass current residential building codes.
pre-fabrication
The shell and basic electrical and plumbing work of the NIDU home is pre-fabricated quickly in the factory. It's lightweight concrete body makes it easily transported and quickly installed onsite. Pre-fabrication insures improved quality control and reduces change orders to almost zero (one of the most undesired aspects of the construction process). Pre-fabrication also means that there is minimal onsite construction, allowing us to reduce onsite time from months – and sometimes years – to a number of weeks.
modular and expandable
NIDU's main modules are part of a greater system of components that allows for expansion and transformation at any time. Annexes, Connectors, Solar Carports, Shower Modules, and perforated PVC screens are some of the available elements that can be incorporated into your final design to achieve any desired configuration.
innovative materials
NIDU modules use a thermally insulating structural shell that is lighter than poured concrete but hurricane and seismic resistant. We use high-performance double-glazed windows with a German design but manufactured here in Puerto Rico. They are incredibly strong but also use laminated glazing providing superior thermal protection. This improved thermal performance makes the NIDU module cooler, which significantly lowers overall energy consumption and adds value to the maintenance and efficiency of the structure.
intelligent
NIDU's modules are equipped with an intelligent, scalable home system, so you can easily command your home's security, energy management, sound control, air quality and many other aspects.
optimized systems and equipment
A 21st century house needs to bring together the best experts in their fields to make the most efficient product possible. NIDU's carefully selected business partners form the top tier in quality, service, and experience. Giving the NIDU home buyer security in both the quality of the product and in the longterm maintenance of its various systems.
economically balanced
We understand that the cost of a house includes the initial cost and the long-term costs of its operation and maintenance. Like a hybrid or electric car, the overall savings should be considered as part of the equation. The CASA-i team has made a great effort to ensure our clients the best products for their money.
in tune with the environment
NIDU's design allows for minimal construction waste, maximizes resource consciousness, and is designed to let nature in. Natural light and ventilation are always present in NIDU's spaces. We place windows to balance the interior light levels, minimizing contrast and the need for electric lighting during the day.
wellness
We use No-VOC paints and make sure our indoor materials have minimal off-gassing to ensure a better indoor air quality. Casa-i homes are designed to work either open air or with air conditioning / dehumidifying units than minimize indoor mold.
designed by fuster + architECTS
The Award winning, internationally published, San Juan based firm is responsible for NIDU's modern architectural design and, if needed, can provide our clients with site design support.
designed to live free
We believe that living in a NIDU house gives you the possibility of living more independently, in tune with the environment, and with your own sense of freedom!
Our Suppliers and Strategic Partners